This is a real Barnet gem. Award winning Victoria Bakery has been in operation for almost 200 years and currently run by James and Debbie Freeman, fifth generation Master Bakers. They make a point of fermenting their bread dough for up to 24 hours in contrast to the Chorleywood Bread Process of accelerated breadmaking used by most commercial bakers (and supermarkets) which creates the kind of pappy flavourless bread most people consume.
We are partial to their sourdough bread that we have them slice thickly. It's not as complex, sour and chewy as a classic French sourdough like Poilane, but it's a very tasty loaf that lasts well. Other loaves include crusty bloomers and flavoursome stone ground wholemeal.
If you're passing at lunchtime it's difficult not to be tempted by their baked goods and pastries, especially the sausage rolls and Cornish pasties and their range of (well proportioned) cakes is reassuringly traditional. Of their buns, my favourite is the apple and cinnamon Danish and their doughnuts filled with Tiptree jam are also rather special.
I do wish more cafés around Barnet sourced their bread here. There's way too much bad bread out there and we have no excuse with such a decent local baker.
PS Apparently in Dickens' novel, on his way to London, young Oliver Twist first encounters the Artful Dodger on Barnet High Street close to where the Victoria Bakery is now located.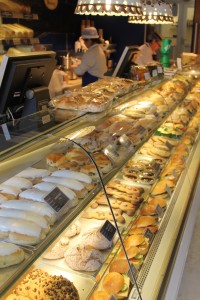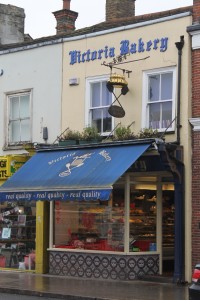 Victoria Bakery
83 High Street, Barnet EN5 5UR Second branch: The Spires, Barnet EN5 5XY
020 8449 0790
www.victoriabakery.co.uk