Many of you have almost certainly heard of the latest phenomenon Pokemon Go. This is a game played on smart phones where you walk around with the app open trying to catch as many Pokemon as you can. However, Estelle Calfe explains how this idea isn't so new.
Well, before Pokemon Go there was Geocaching. Geocaching is a treasure hunt that is played outside and, similar to Pokemon Go, it can be played anywhere around the world.
A while ago my family and I were heading into London for the day and a friend suggested we try geocaching. It sounded like fun and we decided to give it a go. All you need is a phone that is GPS enabled and you also need to download the Geocaching app. There is a free version of the app or you can upgrade.
When we got to Euston we entered our location into the app and saw where all the closest geocaches were. We picked one and went off to find it. You get a hint for each geocache, which helps you to find it. However it's not always as easy as it looks! It took us an hour to find the first one at St Pancras Parish Church. We must have looked very odd to the Muggles (the geocaching name for the general public) as we were looking at everything in minute detail in the church ground. I am surprised we weren't arrested for loitering with intent!
It was only after reading some of the spoilers in the comments added below the geocache hint and looking at the photos uploaded by others who'd found this geocache that we found what we were looking for! It was the tiniest of capsules. We opened it up and took out the rolled up piece of paper and added our name to it. And it was as simple as that.
Once we'd found the first one, it became much easier. We then had a lovely afternoon heading down to Covent Garden looking for various geocaches on the way. We ended it with coffee in Neal's Yard while the children found the last geocache of the day.
But you don't need to go in to central London. We do have some in Barnet! On a recent trip to Waitrose my daughter and I decided to try and find the one hidden in The Spires.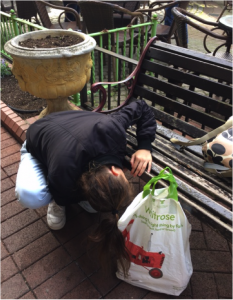 This is one that is classed as easy to find, so luckily we weren't on our hands and knees for too long!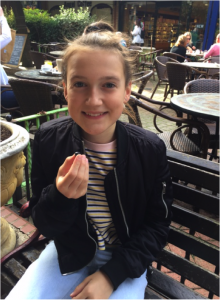 Geocaching really is a great way to spend a day or a few spare hours. It's also a really good way to get the children out the house. As you get more experienced you can try the harder levels too. And best of all it's free!