When we first moved to Barnet we soon realised that our lovely new neighbours included some hens. I've had neighbours with hens before, but that was in the countryside, and thankfully here we aren't woken each morning by crowing cockerels.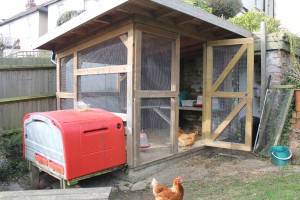 It's been interesting to discover a few things about (sub) urban hen keeping and what it involves. As long as you have a decent sized garden with space for a secure hen house you could keep a few "girls" – you don't need a cockerel unless you want to breed chicks. The hen house will incorporate a nesting box where the hens lay their eggs in private in the dark. Four square feet per chicken is the recommended space allowance, but our neighbours' hen house is about the size of a garden shed with an Eglu Cube attached for nesting (laying). Eglu coops are well insulated and easier to clean than wooden equivalents. Alternatively, you could get an enclosed run which will give them the space they need, but lawns will not last long.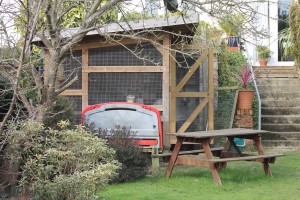 You do need to be realistic about the time commitment*. Every day you should let out the hens a couple of times, throw some feed about and allow them to peck around and amuse themselves for a while. It's important they get to peck at plenty of grit and small stones as this helps strengthen the egg shells. They might also have a dust bath which they can do on a spare bit of flower bed or a dirt tray like a cat's litter tray which can be kept in the coop. The chicken droppings need clearing out frequently – they are a good addition to the compost heap apparently, and their water and feed also need changing daily. You also need to regularly check that the hens' vents are clean and clear. Our neighbour is vigilant about supervising his hens when they're out in the garden case of foxes and other predators; mind you this is hardly a chore when they are so entertaining to watch. You'd need to allow about 20 minutes each time you let them out and more time for cleaning. They are quite messy creatures!
Chickens can be bought with your Eglu from Omlet, but Thornes in Letchworth is recommended and there are other specialist suppliers. The "girls" next door are popular breeds Gingernut Rangers and Miss Pepperpot. These and many other breeds are designed to lay about 300 eggs per year, so three or four would feed a family, maybe with some surplus to share around.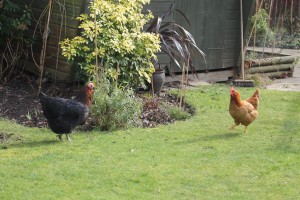 If you're commuting to work every day, a regular traveller or precious about your garden, this might not be for you. However, if you don't mind getting your hands dirty and have trustworthy neighbours (who don't mind helping out from time to time in return for some fabulous eggs), keeping hens is a satisfying taste of the good life.
*For prolonged holidays, there are "chicken sitters" who will take in your hens for you.