If, like us, you have a junior school age child studying the Romans, Welwyn Roman Baths is a small site and an easy 20 minute drive up the A1. The site was discovered in 1960 when it was disturbed by roadworks* and is now encased within a vault directly beneath the motorway.
From the outside the museum looks like a bomb shelter, but once through the entrance tunnel the bathing area dominates the space with exhibits arranged around the edge. The bath house belonged to the Dicket Mead Roman villa built in the 3rd century AD and the remains of the cold, warm and hot bathing areas are very well preserved. You can also clearly see the heating system (hypocaust). The museum is particularly informative about the culture of bathing and its role as important pastime for Roman society.
The museum is compact and a handy size for children as a visit needn't take much longer than an hour, depending on how long they spend on the engaging worksheets. There are a number of items to handle and the children can dress up in robes.
*The figures bathing are Tony and Merle Rook who founded the Welwyn Archaeological Society after the discovery of Roman tiles on a spoil-heap and ultimately responsible for the preservation of the site.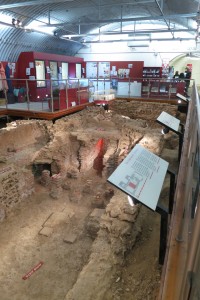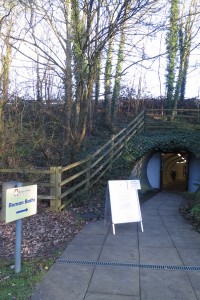 The baths are open from January to November
School holidays: 2–5pm Monday to Friday (except Christmas holidays)
Weekends and bank holidays: 2–5pm (or dusk if earlier)
Adults £2.50
Children free