Conveniently located next to the Barnet Everyman this family run outfit is more than just your regular chippy. Fish is delivered daily and cooked to order in batter, matzo meal or charcoal grilled and you have the option of the take away counter or the restaurant. However, the restaurant fills up very quickly, so you need to book – especially at weekends. Recently we took visitors from Greece and our friend Nikos was delighted with his sea bream grilled on the bone.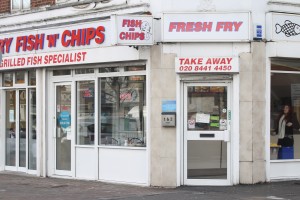 Fresh Fry offer a BYO policy and on occasions we've taken our own wine (Champagne and sparkling wine, especially lean tangy Cava is a great partner to fish and chips), however there are some perfectly palatable wines on their list. The crisp, fresh house white by Dubeouf in Beaujolais does the job nicely at £13.90 a bottle. They have some Australian fizz on their list from Deakin Estate in Victoria affordably priced at £19.90, but for Moët et Chandon, expect to pay £48. If you plan to take your own wine, do mention it when you book.
Lunch specials are from £5.95 including a drink and three-course set dinner from £12.40. The children's menu is £4.90.
Fresh Fry Fish and Chips
1–2 Western Parade, Great North Road, Barnet EN5 1AD
020 8441 0280 (restaurant) 020 8441 4450 (take away)