Until recently Ramsgate just seemed to be a lesser-known Channel port, but a fleeting visit a couple of years ago radically changed this impression. By chance we ended up exploring this overlooked corner of Kent while heading to Sandwich, really liked what we saw and have returned a few times since. From Barnet, taking the M25 and M2, you can be down there in less than two hours, so ideal for weekends away.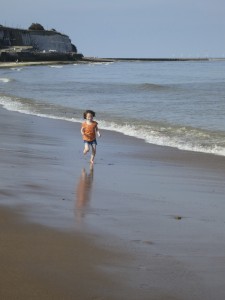 The big surprise with Ramsgate is the quality of the architecture, large sandy beaches and bustling, scenic harbour – Britain's only royal harbour, a status granted to the town by George IV. Street names such as Nelson Crescent, Wellington Crescent and The Plains of Waterloo all obviously date from this period and elegant Georgian terraces shape the townscape. A century later local resident Pugin put his stamp on the town with a number of buildings including his distinctive Grange which you can stay in courtesy of the Landmark Trust. Blue plaques noting the town's many illustrious visitors punctuate the buildings revealing just what a fashionable resort Ramsgate used to be and the town boasts nearly 900 listed buildings, apparently more per capita than Bath.
However, over the years, fortunes have fluctuated for the area (it's still a bit rough around the edges), but things are definitely picking up and being only 75 minutes away from St Pancras on High Speed 1 means the so-called 'DFLs' (Down From London) will only get more numerous. The Victorian villas around Ellington Park near the station are popular with commuters as are the mouthwatering properties around Vale Square – a fraction of the cost of a similar period homes in London.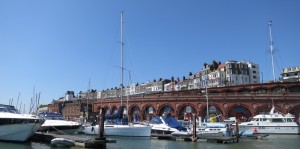 Climatewise, the southerly aspect and rounded shape of the Isle of Thanet means that it is quite a sun-trap, helping to explain its early popularity as a holiday destination. The light was greatly appreciated by artists – Turner was a regular visitor to the area and particularly fond of Margate. As Ramsgate is on the southern side of the peninsular, the sunlight is really maximized and the sunsets are spectacular. Historically many people visited the area by steamship or train from London. Much is made of Dickens' connection with Broadstairs and which also amusingly features in The Diary of a Nobody by George and Weedon Grossmith.
In Ramsgate we stayed in a flat in a large sweeping terrace with glorious sea views, one of several distinctive properties managed by My Seaside Luxury. The people behind this company have just opened Ramsgate's new boutique hotel, Albion House Hotel. Belvidere Place in Broadstairs would also make a good base.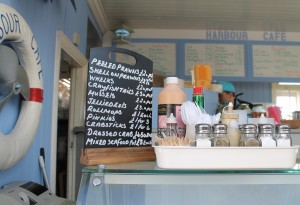 Food lovers shouldn't be disappointed. En route, if you're driving, try to stop off at Canterbury's farmers market and restaurant, the Goods Shed, alongside Canterbury West Station and packed to the rafters with local produce. In Ramsgate try relaxed and excellent value Royal Harbour Brasserie spectacularly located at the far end of the pier, Bon Appetit on the high walkway overlooking the harbour and popular chippy, Peter's Fish Factory. Down by the beach in Broadstairs are café, bar and restaurant, Wyatt & Jones, a particular favourite, and close by is the Harbour Café with a great selection of shellfish; quirky bars and pubs include the Four Candles brewpub and The Chapel café/pub and bookshop. Broadstairs also hosts food festivals in April and October. In Margate Old Town, The Greedy Cow is good for a late breakfast or lunch just a short walk from the Turner Contemporary. Dotted around are classic 1950s ice cream parlours. In Ramsgate Sorbetto has recently taken over Pelosi's and Broadstairs has Morelli's.