It might not be oozing glamour or dotted with palm trees, but just across the A1 from Barnet, Borehamwood is home to film studios that for many years were described as "Britain's Hollywood".
Elstree Studios are now enjoying another high with digital and pay-to-view television and tax breaks encouraging film productions to be made in the UK. This has also been boosted by the BBC's closure of Television Centre in Shepherd's Bush and the relocation to Elstree of large TV shows like Strictly Come Dancing. If you walk up and down Shenley Road the Elstree Heritage Trail signs will remind you that this was, to quote Charlie Chaplin, the "home of the British film industry".
Elstree Studios is the collective name for the film studios located around Borehamwood. In the early 20th century Elstree was (and still is) just a village, but it was the name of the train station – and probably sounded a bit more glamorous. Boreham Wood (as it was called) barely existed at that point. Its fields were dotted with a few buildings, but grew rapidly with the advent of cinema and television and was conveniently located near London.
Neptune, ATV and BBC
It all began in Clarenden Road with Neptune Studios in 1914, one of the earliest studios in the UK. Walton Studios opened near Shepperton in 1899, Ealing in 1902 and Twickenham 1913; the first Hollywood studio opened in 1911. Neptune had the first "dark" stage in Europe, relying completely on artificial lighting. With the coming of the First World War, Neptune soon went out of business and passed through various hands becoming Ideal Films, Blattner, Rock and then British National Studios. Douglas Fairbanks Junior rented these studios in the early 1950s where he produced more than 160 films for television.
A decade later Lew Grade's ATV took over the 31-acre site and converted it for TV. Thousands of programmes were made here including Emergency Ward 10, Morecambe and Wise as well as programmes for the United States. The Muppet Show was recorded here between 1976 and 1981 after Lew Grade offered Jim Henson sufficient financial backing and the show could be run in syndication (which hadn't been possible in the US) as long as it was made at Elstree. Jim Henson's movies were also filmed here. In 1983 the studio was sold to BBC and it became the home of Top of the Pops, Grange Hill, Holby City and Eastenders – the set can be glimpsed over the rooftops in Clarendon Road, especially the Walford East railway bridge. The BBC is now expanding the studio (now called the BBC Elstree Centre), so its future looks secure.
British International Pictures "Elstree Studios"
On the other side of Shenley Road is what's now known as Elstree Studios. This was originally established in 1925 as British National, then known as British International Pictures before becoming ABPC (Associated British Picture Corporation). In the early days of cinema several landmark films were made here such as Hitchcock's first British talkie, Blackmail, and the first French talkie as the technology was as yet unavailable in that country. After closing during the Second World War the studio reopened in the late 1940s with Warner Brothers as a major shareholder and projects featured Hollywood stars like Marlene Dietrich, Richard Todd and future president Ronald Reagan.
During the 1950s the studio boasted high-profile films such as Moby Dick and the Dam Busters with its newly constructed outdoor water tank (now the location of the Big Brother house). Other movies included Look Back in Anger and Ice Cold in Alex and the studio helped discover new stars such as Audrey Hepburn, Richard Harris, Laurence Olivier and John Mills. David Niven, Sophia Loren, Gregory Peck, William Holden and Errol Flynn also worked here at the time.
By the 1960s the studio was becoming known for TV as well as movies as it was now the home of ABC who built new sound stages to accommodate both. The Saint, The Avengers, Randal and Hopkirk (Deceased), Jason King and other retro classics were made here, and if you watch closely local landmarks appear as locations like the Dyrham Park gateway at Trotters Bottom and Edwarebury Hotel, now the Laura Ashley Manor Hotel. On the Buses and the Confessions Of series also came out of the studio during this era. Recent building excavations discovered bags of white powder that turned out to be salt used as fake snow during the making of Stanley Kubrick's The Shining, one of Elstree's most famous films. A young Simon Cowell who lived in Barnet Lane worked on this and other films as a runner. The Cowell family home, Abbots Mead was purchased by Kubrick in 1965 and the American director lived there until 1978 when he moved to Childwickbury Manor north of St Albans.
However, during the 1970s and 80s the future of Elstree Studios became uncertain although blockbusters like George Lucas's Star Wars and the Indiana Jones trilogy were made here as were music videos such as Queen's Bohemian Rhapsody. By 1986 the owner was Thorn EMI who sold it on to Canon (producers of Superman IV) who in turn sold it to property company Brent Walker leaving its future uncertain.
Other studios
During its heyday Borehamwood boasted several other studios, most of which had closed by the 1980s. The Gate Studios in Station Road opened in 1928 originally as Whitehall Studios in a converted aircraft hangar. Its proximity to the station wouldn't have been a problem for silent movies, but soon after its completion talkies were introduced. Filming was regularly disrupted by a bell ringing to warn of approaching trains courtesy of a member of the crew positioned on the roof on look out. Despite the inconvenient location it changed hands several times and for a while the Rank Organisation owned it to produce religious films to accompany their feature films. Stars who worked here included Cary Grant, Anna Neagle and Trevor Howard. It was turned into a factory making cinema screens and ultimately demolished in 2005 with the site used for a housing estate. Sadly a campaign to turn it into a film museum had failed.
The British and Dominions (B&D) Imperial was another notable studio. It was founded in the late 1920s as an extension of BIP with the first purpose-built sound stages in Europe. Many film stars debuted here including Vivien Leigh and Merle Oberon and Hollywood veteran Douglas Fairbanks made his final film here, The Private Life of Don Juan. The studio's short life came to an end in a fire in 1936 when it was relocated to a new studio complex to the west of London, Pinewood. The site continued to be used until the 1980s when the remaining buildings were demolished for an office complex, appropriately called Imperial.
Borehamwood's most glamorous studio was MGM-British. This started life as Amalgamated Studios in Denham, who opened a large facility north of Elstree Way in 1936. It remained in limbo during the war, briefly owned by Rank (to stop competitors ABPC expanding) and used by the Ministry of Works. MGM acquired the studio in 1944 and extended the site, making it their UK base. During the 1940s and 50s Hollywood luminaries like Clark Gable, Ingrid Bergman, Grace Kelly, Spencer Tracey, Gene Kelly and Elizabeth Taylor filmed here and in the 1960s productions included The Dirty Dozen, Where Eagles Dare with Clint Eastwood, Kubrick's 2001: A Space Odyssey and TV hits Danger Man, The Prisoner and Gerry Anderson's UFO. Sadly, by 1970 due to the parent company's financial problems, the 115-acre site had to be sold off, although the distinctive art deco clock tower remained a local landmark until 1986. That too was demolished after attempts to list it had failed.
The only studio in Elstree itself was Danzigers' New Elstree Studios run by American brothers Harry and Ed Danziger and known for low-budget B-movies and TV series. It was also hired out to other companies and, for example, Hammer made Quatermass II here. The studio was only open for a few years from the mid-1950s, closing in 1965 and the site is now a business park.
The resurgence of Elstree Studios
After an eight-year-long Save Our Studios campaign by residents energetically led by local film historian Paul Welsh, in 1996 Hertsmere Council stepped in and acquired the site. A large proportion of the studio lot had been sold to Tesco, but the council invested heavily in the studio and rebuilt it. The studio boasts a couple of enormous sound stages, Numbers 1 and 2, which were used for Star Wars and renamed the George Lucas Stages. At 15m, almost 50 feet high, they are two of the tallest in Europe and in big demand.
Like other film studios around London (eg Pinewood and Warner Bros Studios Leavesden), Elstree continues to expand to respond to international demand as the UK consolidates its status as an international centre for film-making. The industry has even admitted to a skill shortage as so many significant projects are underway here. Recent examples include Paddington Bear, The King's Speech, Suffragette, The Danish Girl and the lavish Netflix series, The Crown which is shot as a feature film (see behind the scenes here). TV shows like Big Brother, Pointless and the BBC's Strictly Come Dancing are also filmed here.
In 2008, Roger Morris was brought in as Managing Director with a brief to secure the future for Elstree Studios. He previously ran Teddington Studios (formerly Thames TV Studios) and the Pinewood/Shepperton Group and has considerable experience as a producer and director (Mona Lisa, Scandal and The Crying Game). Working closely with the Leader of Hertsmere Borough Council, Morris Bright, he has brought the studio back to life and it's now one of the top four leading film and TV studios in the UK. This is undoubtedly helped by the generous tax breaks offered to large-scale film productions made in the UK. The studio's proximity to London and a range of historic locations within easy reach also make it very attractive to film-makers.
For more information about the history of Elstree a trail from the station celebrates the town's links to the screen and it's worth visiting the Elstree and Borehamwood Museum at 96 Shenley Road. On the top floor there's a large section devoted to the studios and the Elstree Project, an oral history record with interviews with over 65 industry veterans made in conjunction with the School of Creative Arts at the University of Hertfordshire. Another option for young people keen to learn more about the industry is Elstree University Technical College for Film and TV supported by the studios with over 400 students. This creative college for 14 to 19 year olds specialises in media, performance arts and production technologies for the entertainments and culture industries.
As Elstree Studios is owned by the local authority, its profitable renewed success subsidises the council tax for Hertsmere residents by 20 per cent. No wonder Borehamwood is so proud of its unique heritage – and who knows who you might bump into along the high street.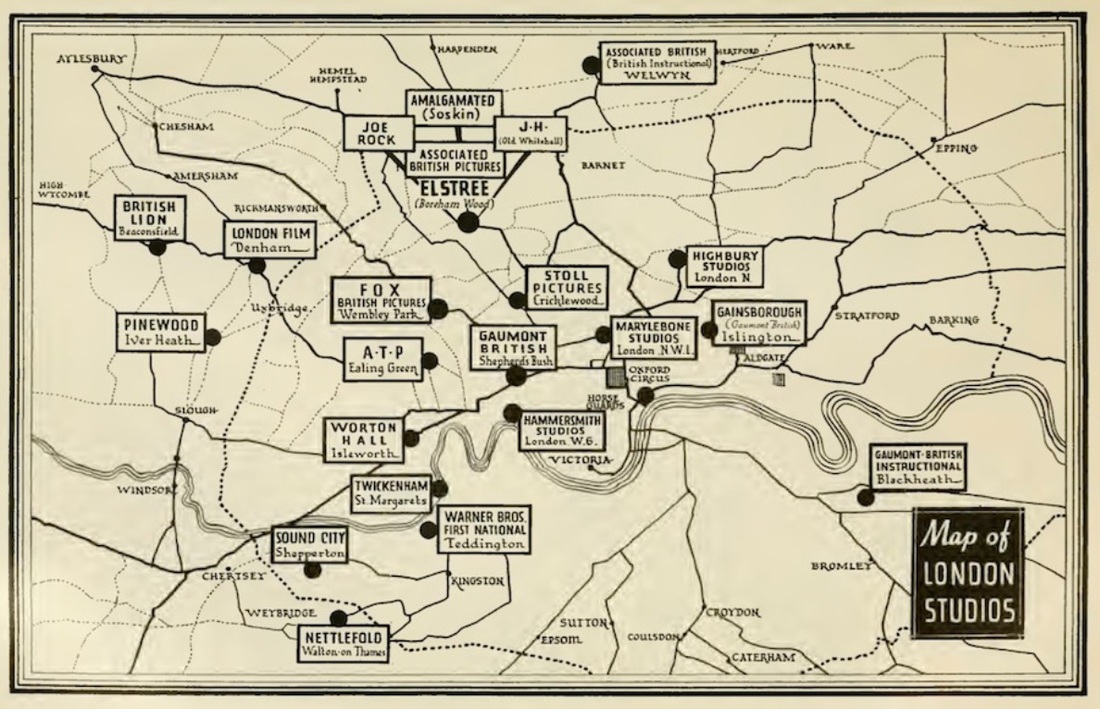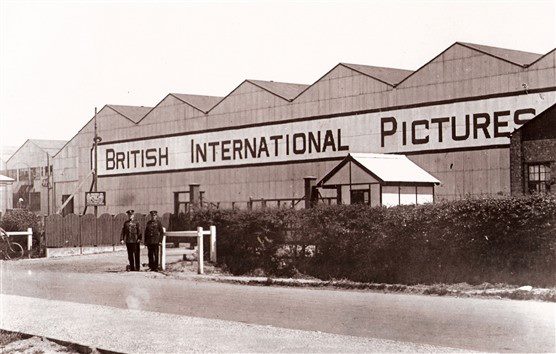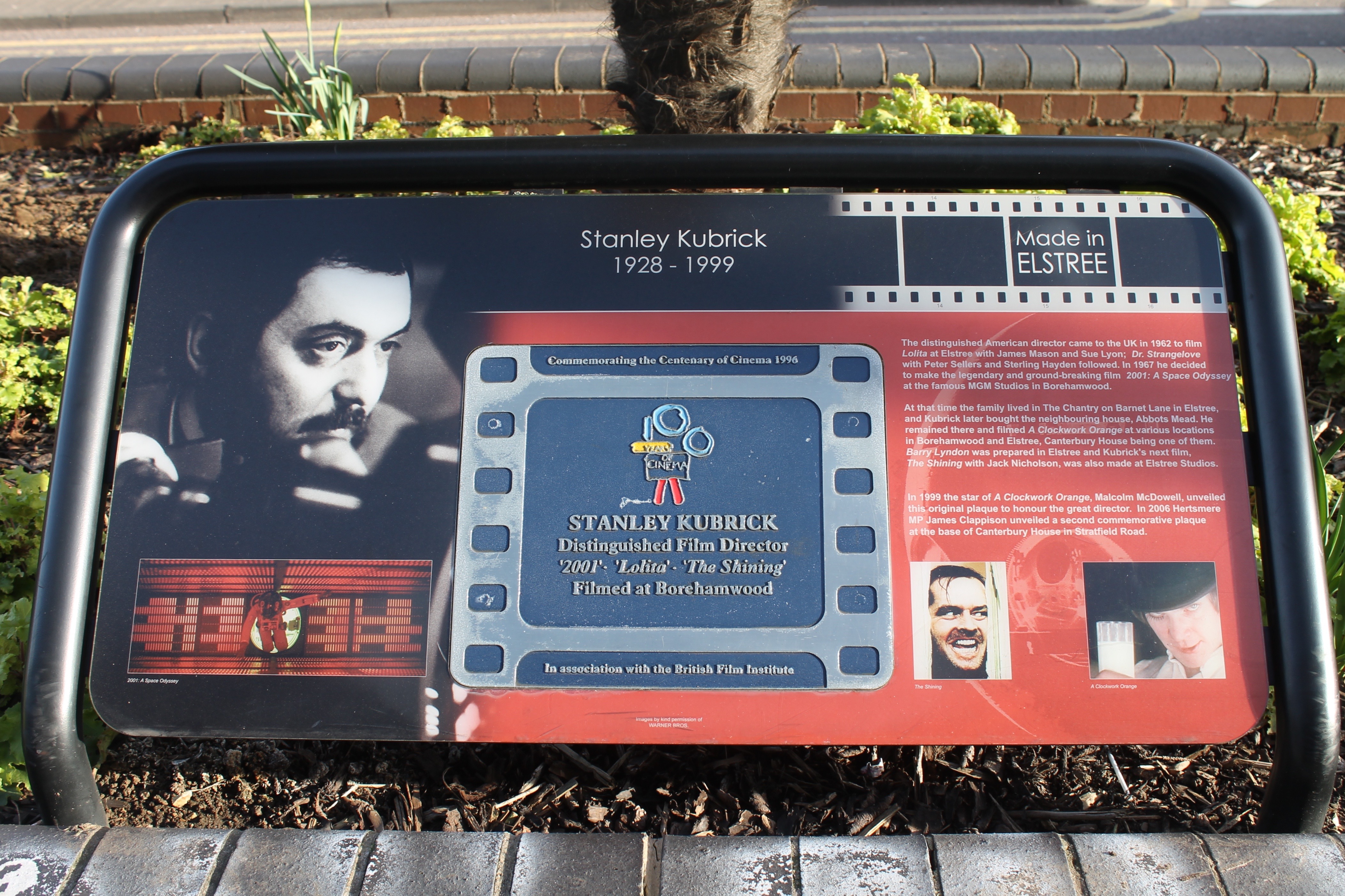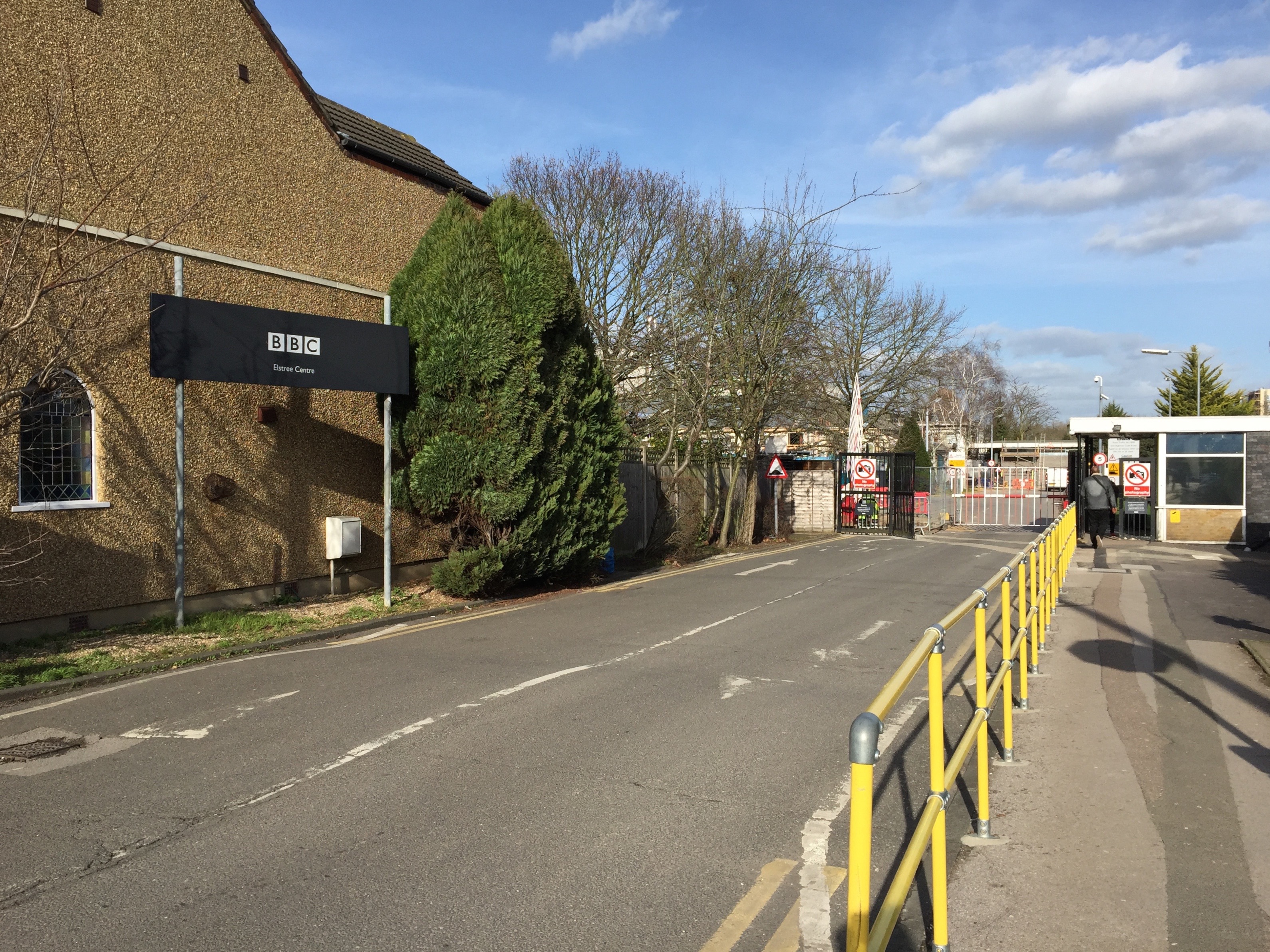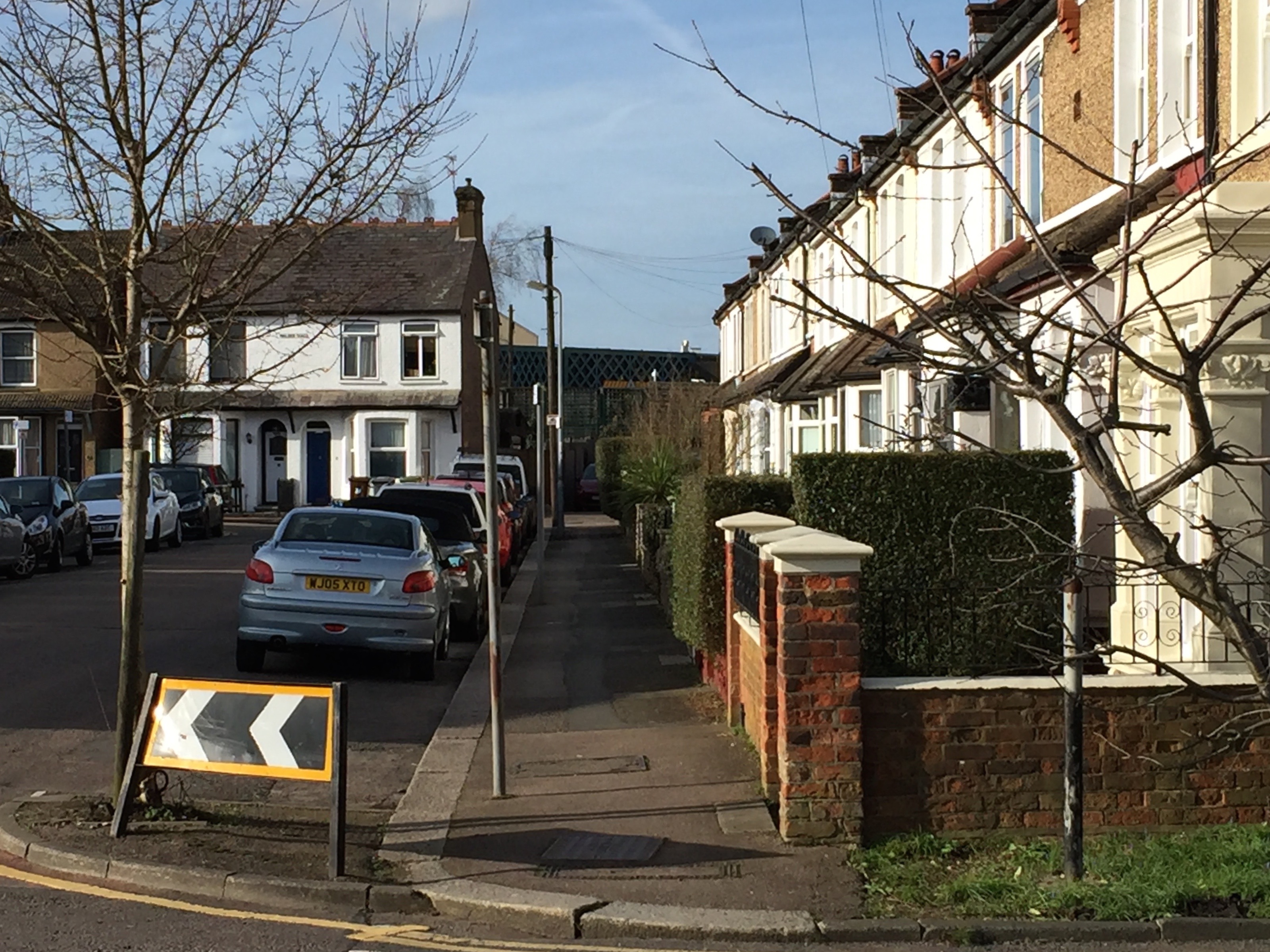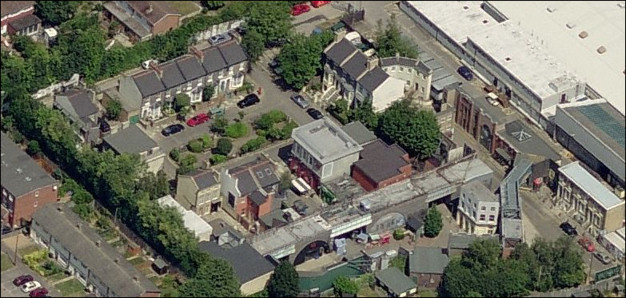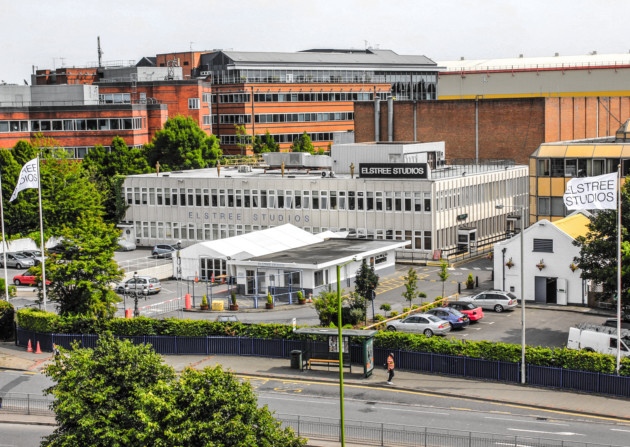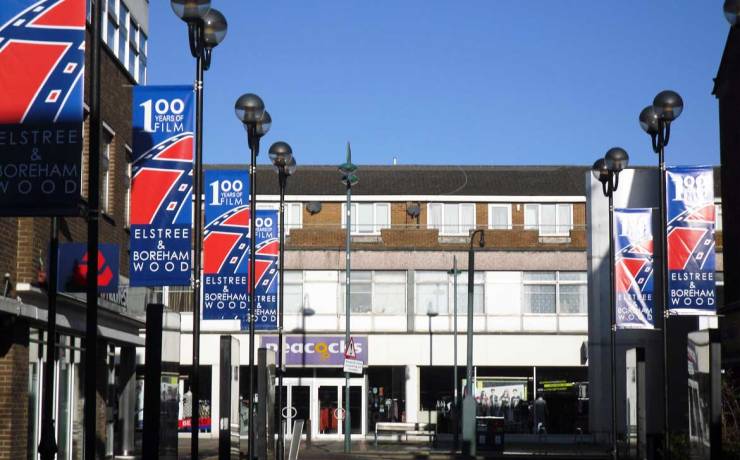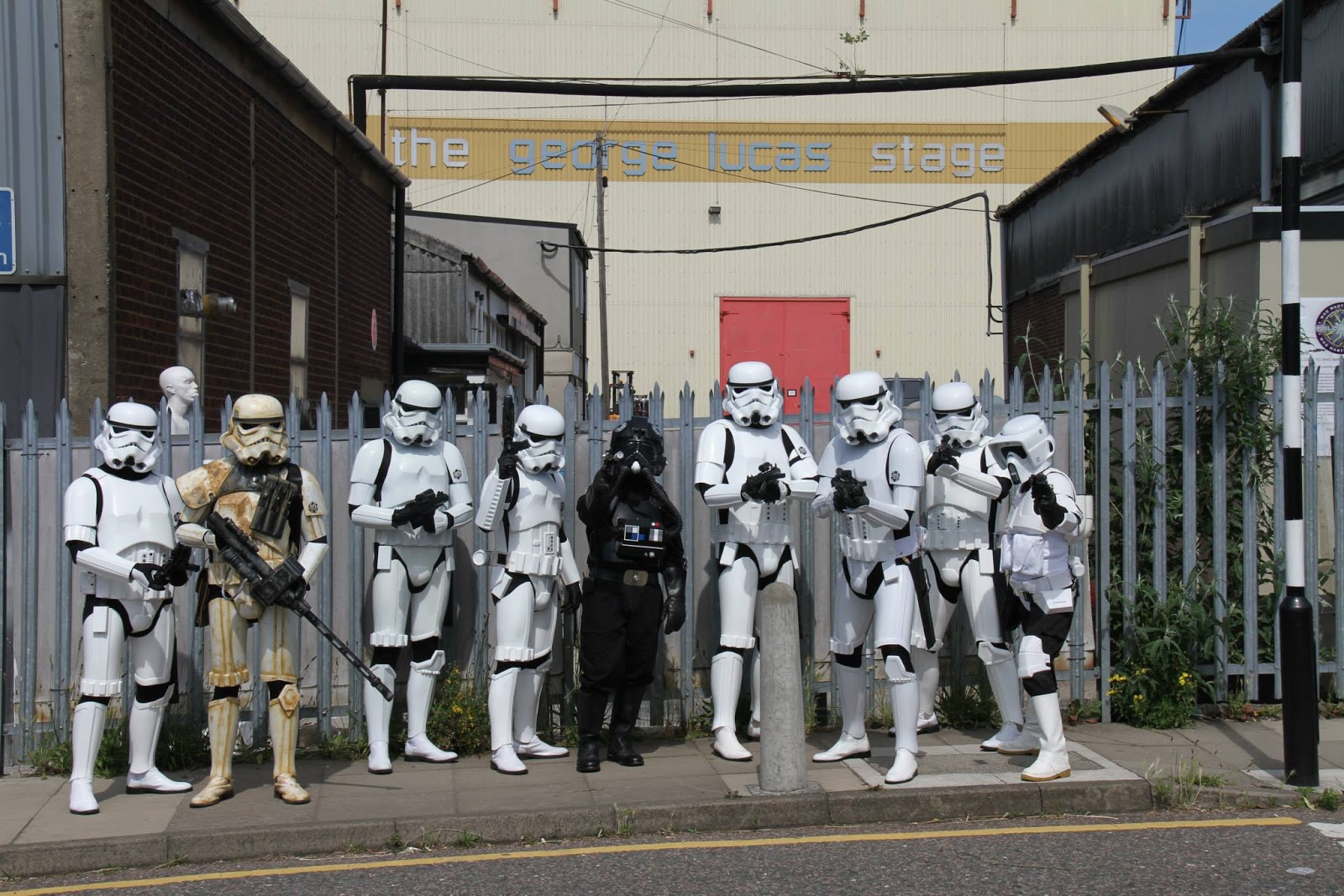 Picture credits
Map of studios: The International Motion Picture Almanac 1937-38
Stormtroopers: 99th Garrison
Aerial shots: thestudiotour.com
General: Elstree Studios