As a late convert to skiing, I've recently discovered an amazing local facility, The Snow Centre in Hemel Hempstead.
Before our first family skiing trip two years ago we had beginner and refresher courses on the dry slope at the Gosling Sports Centre in Welwyn Garden City (which I believe has recently closed). It was useful, if somewhat hard going on the brush-like surface, but you quickly learn the mechanics of skiing. However, it was a good opportunity to experience the (very odd) feeling of ski boots and discover what it's like lugging skis around.
Before going skiing last year we went to The Snow Centre, an altogether different experience as it's the closest real snow slope to London (and about half an hour's drive from Barnet). The main slope is 160 metres long and there is also what's apparently the largest indoor ski lesson slope in the UK. Both slopes are more than 30m wide with carefully maintained surfaces.
I had booked a lesson, whereas my considerably more experienced husband and super-confident daughter only needed lift passes, and with only two other people in my group class (maximum of six) I received plenty of attention from the instructor. This really helped boost my confidence – which is currently my biggest challenge on slopes.
There's something quite surreal about The Snow Centre. It's basically a great big freezer, so you have to be appropriately kitted out. What's more, it's a helpful way for people to decide whether skiing is for them without committing to an expensive holiday. To complete the Alpine experience there is also a log cabin style bar and restaurant overlooking the slope for some bratwurst or tartiflette (or more regular burgers, pizzas, salads etc).
Weekday lift passes cost from £24.30 (one hour)/£33.30 (two hours) rising to £34.20/£43.20 at weekends with ski or snowboarding lessons from £47 (two hours). They also cater for kids' parties with sledging and snow scooters and other activities for children. Skis/snowboards, boots and helmets are included in the price and waterproof outerwear can be hired (but you need to allow at least 30 minutes to check in and get yourself ready). A Snow Centre voucher or Gift Experience could turn out to be the idea Christmas present for a sulky teenager or ski loving (or curious) friend or relative.
We'll be back there soon to work on our parallel turns before heading off to the slopes next Easter.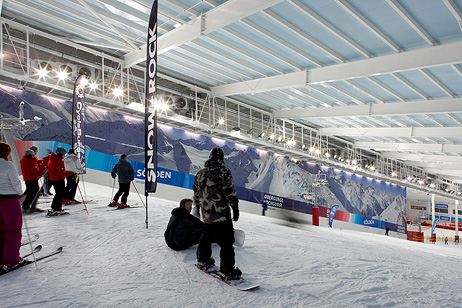 Images courtesy of Sir Robert McAlpine and The Snow Centre.